Stir-Fried Fava Beans with Ginger
by Laura
A Chinese recipe from my new cookbook "Madhur Jaffrey's World Vegetarian: More Than 650 Meatless Recipes from Around the Globe by Madhur Jaffrey"
Hannibal Lecter would be proud. Ever since I was introduced to him in the movie "The Silence of the Lambs," I've wanted to try a fava bean recipe but I didn't want to go as far as Hannibal did with his signature ingredients, at least not yet! Only kidding, I think!
I found two fava bean recipes in my new world vegetarian cookbook. Unfortunately, fava beans are not popular in the United States. The grocery stores in my current area do not carry these specialty items.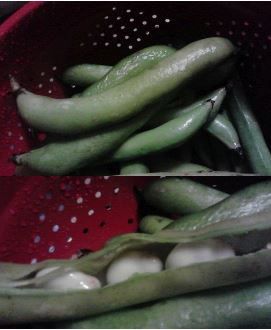 When I took my search to online resources, I found a wonderful place in Okemos, Michigan called Earthy Delights that ships fresh fava bean pods to anywhere in the United States. Fantastic! These fava beans arrived mostly frozen. I took them out of the box they were shipped in, placing the fava beans in clear, plastic storage bags in the refrigerator. The next day, I cleaned the pods with a veggie wash spray and the rest is in the below recipe.
This was an interesting learning experience. Prepping the fava beans is a bit laborious, but the pay-off is well worth the effort.
Stir-Fried Fava Beans with Ginger
2 ¾ pounds fresh fava bean pods, about 3 cups shelled (I used 3 pounds of fresh fava bean pods)
2 tablespoons peanut or canola oil (I used peanut oil)
2 garlic cloves, very lightly crushed and peeled but left whole
3 thin slices of fresh ginger
Scant 1 ½ teaspoon salt (I use sea salt when possible)
Freshly ground black pepper
1 teaspoon sugar (I used fructose)
1 tablespoon Chinese Shao Hsing wine or dry sherry (I used the Chinese Shao Hsing wine)
1 tablespoon vegetable stock or water (I used the vegetable stock)
2 scallions, cut crosswise into fine rings (use both white and green sections)
1 tablespoon oriental sesame oil
Cook and peel the beans according to the below directions.
How to prepare the fava beans: Shell the fava bean pods. Bring 8 cups of water to a rolling boil. Add 4 teaspoons salt and stir to mix. Now put in the shelled beans. Depending upon the size of the beans, cook for 2 to 5 minutes, or until the beans are just tender. (Note: You'll need to experiment with this. I tried 5 minutes in the first recipe, they weren't cooked enough. For this recipe, I tried 7 minutes and the beans were too soft to peel easily. Next time I will try 6 minutes). Drain quickly and rinse off under cold water. Now peel the beans, removing the leathery skin. The beans may now be served as is, heated with a little butter or oil, or cooked further according to the recipes that follow.
Put the oil in a wok or large frying pan and set over high heat. When hot, put in the garlic and ginger. Stir once or twice, pressing down on the garlic and ginger. Now put in the shelled beans and stir once. Put in the salt, pepper, sugar, wine, and stock. Stir for 30 seconds, or until the liquid is absorbed. Add the scallions and stir for 10 to 20 seconds. Dribble the sesame oil over the top and stir to mix. Turn off the heat. Remove the garlic and ginger before serving.
Serves 4.
This can be a delicious meal by itself or serve it as a side dish.
Did You Know?
In the fava bean scene from The Silence of the Lambs, "Dr. Hannibal Lecter is making a medical joke. Lecter could be treated with drugs called monoamine oxidase inhibitors – MAOIs. As a psychiatrist, Lecter knows this. The three things you can't eat with MAOIs? Liver, beans, wine. Lecter is a) cracking a joke for his own amusement, and b) saying he's not taking his meds." – Brad Miska of Bloody-Disgusting.com
To revisit Hannibal's eccentric ways, click this fava bean scene from The Silence of the Lambs.
Note: At this time, I do not have a working high quality digital camera. I am using the camera function on my flip–phone style cellular phone. If I do obtain a decent digital camera, I will update some of my photographs. Thank you in advance for bearing with me on this.