In the Kitchen
Homemade Peanut Butter
by Laura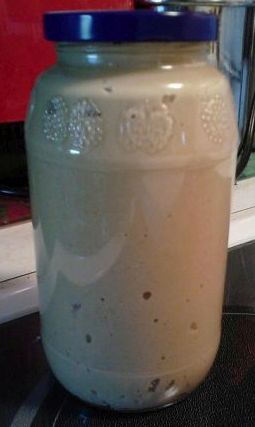 Out of peanut butter? Or do you not like all of the extra, toxic ingredients in name brand peanut butter? Make delicious peanut butter in your home. It's very easy with a food processor or similar blender.
This would make a nice gift by itself or with homemade bread.
No wisecracks about my drawing "skills" :>.
Homemade Peanut Butter
Unsalted, shelled peanuts (I used approximately 25 ounces or about 3 cups).
Optional: Vegetable oil, honey, fructose, sugar, maple syrup (or another sweetener), salt, or ? (use your imagination).
Blend in a food processor or blender until desired consistency is reached.
I used only the peanuts. Tastes great with fruit jelly for a good ol' peanut butter and jelly sandwich. Try this with crackers or use it to make peanut butter fudge. It would be great to use in Nyssa's Peanut Butter Cookies recipe, check it out.